03 Mar

South Africa is exporting more food. But it needs to find new growth frontiers
South Africa is exporting more food. But it needs to find new growth frontiers
March 03, 2023
South African agricultural exports were up for the third consecutive year in 2022, reflecting favourable production conditions and higher commodity prices. The export numbers for the full year have not yet been published. I have calculated the annual data for 2022 using quarterly trade export statistics published by Trade Map, a trade statistics portal developed by the International Trade Centre, the United Nations Conference on Trade and Development and the World Trade Organisation.
The major export crops continued to be maize, wine, grapes, citrus, berries, nuts, apples and pears, sugar, avocados, and wool.
These products have been the drivers of exports over the past couple of decades. In particular, fruit and wine have increasingly become the leading export products. These have driven a rise in the value of agriculture (and agro-processing) exports, which have averaged 11% of the South Africa's overall exports, up from 9% in the decade before.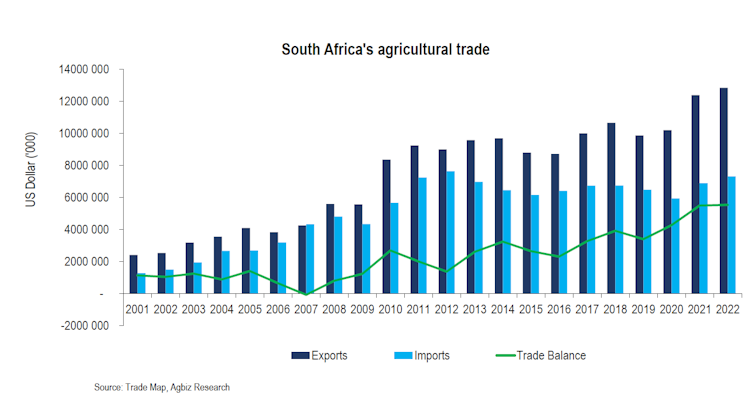 Based on my calculations, using Trade Map 2022 data, South Africa's agricultural imports amounted to US$7.3 billion, up 6% from the previous year. Considering this import value against the export value of US$12.8 billion, South Africa's agriculture realised a record trade surplus of US$5.5 billion.
READ FULL ARTICLE HERE